Here's the look I went with in Revelation. I have other playthroughs using the same "character" and this is how I tell them apart. (Utilising the 9 save slots, I can marry three people in Conquest, three in Birthright, and three in Revelation, because I am also crazy.)
Karu in Birthright: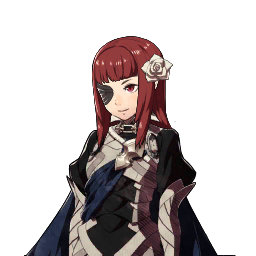 and Karu in Conquest: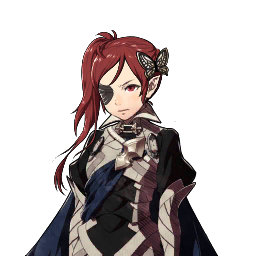 My avatars always have eyepatches, it was a tradition that started with this guy: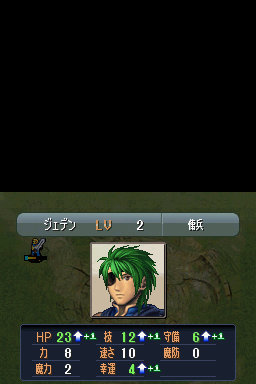 SO ANYWAY.
Her boon is HP and her bane is magic because unlike Awakening where I mostly played Robin as a mage, in this one you're not giving tomes until promotion and because of how weapon ranks work in this game...she would have an E rank in tomes upon promoting. Which sucks. Stabbing things is fine, tho. I am okay with that. But in Conquest (which is the only game I have anyone promoted in yet; Birthright I haven't gotten to that point yet), I gave her a Fire tome for the indirect attacking ability. 'Cause why not right?
That aside, I also made her secondary class in this Cavalier, in honour of Xander (who is my forever husband in Fates). It was that or Sky Knight and like idk man, I was tempted, so tempted, in honour of Caeda, but I didn't. (There's always P.2.2, right?)
I have NO IDEA who I want the pairings to be in Revelation. I can't do Xander, Jakob, Niles, Kaze, Subaki, or Rhajat, because I have them in other save files.
But anyway. Here's stuff from my Revelation liveplurk.
This is Playthrough #1, File #7.
(People on plurk know this, but for those reading here... I have ONE GIGANTIC PLAYTHROUGH where I go for three spouses per game and just use the save files. So P.1.1 is Playthrough #1, Conquest's first save file, which has f!Corrin/Xander. P.1.2 is f!Corrin/Jakob, and P.1.3. is f!Corrin/Niles. Then P.1.4. is Playthrough #1, Birthright's first save file [which is technically the fourth save slot], f!Corrin/Kaze. P.1.5. is f!Corrin/Subaki, and P.1.6. is f!Corrin/Rhajat.)
TIME TO DECIDE THE FATES.
>Defend Hoshido
>Fight with Nohr
>Refuse to choose a side
well I could fight with Nohr because--
YOU BOUGHT REVELATIONS, DON'T CHOOSE A SIDE
you were like IT'D BE GREAT TO NOT HAVE TO CHOOSE the first time we played this
but I didn't buy Revelation just to play Conquest!
>Defend Hoshido
>Fight with Nohr
>Refuse to choose a side


[It is not recommended to select this path for your first playthrough. This route is best experienced after playing both the Defend Hoshido and Fight with Nohr paths. Is this still the path you choose?]
>Yes
>No
I'm pretty sure it's talking about story/plot and not because of gameplay...which really, if you want the whole plot experience, you really do need to play all of the routes. But considering I only cared about this Fire Emblem generation because of Xander, I don't really give a fuck about story. I didn't in Awakening and that didn't impact my experience.
But sure, let's choose our own path, instead of Hoshido vs. Nohr. I'm sure I won't live to regret this.
>Yes

>No
Because as I said I didn't buy Revelation just to not play it that would be dumb.
Karu: Xander, Ryoma... I can't choose one over the other. I'm sorry.
Xander: What are you...
Ryoma: ...going to do?
Karu: IDK but I will figure this shit out as I go!
Xander: As your older brother, I must advise you...
Ryoma: stfu Xander
Karu: can we just all get along pls
Karu: ffs this isn't a pissing contest
But of course why would anyone listen to me NO ONE EVER LISTENS TO ME god it's like when I rewatch Gundam Wing and I fucking tell Heero to not do stupid shit and that boy just
will not listen to reason
I stg.
I HAVE NO PEOPLE IN THIS CHAPTER except Azura and--ohai Jakob.
Karu: so um we're up against both armies because I suck and can't pick a side =D
Jakob: milady wtf
Chapter objective: DEFEAT BOTH BOSSES WITHIN 5 TURNS
o okay.
Turn 1:
Jakob: /moves to the right
Karu: /follows him
Azura: /Sings for Jakob
Jakob: /moves closer to the first boss
Enemies: /surround Jakob lol, including the first boss; second boss and his entourage come over
Turn 2:
Jakob: /nearly dies but kills at least one enemy with Azura
Karu: /kills the first boss!
Azura: /sings for Jakob
Jakob: /kills another enemy
Enemies: /kill Jakob, second boss flies within reach
Ryoma: maybe we should stop fighting because Karu is starting to resist.
Xander: ok
Turn 3:
Jakob: /is revived, lol Phoenix Mode; kills things
Karu: /kills things
Azura: /Sings for Jakob
Jakob: /kills second boss
Chapter over in three turns.
Xander: WHY WOULD YOU DO THIS, KARU?!
Karu: if you'd let me explain
Ryoma: HOW COULD YOU BETRAY US
Karu: ARE YOU BOTH IDIOTS?!
Xander: I LOVED YOU LIKE A SISTER, KARU
Karu: NO YOU DIDN'T YOU WANTED TO TaKE ME TO BED
Ryoma: ...she for real, broseph?!
Xander: THAT'S IN AN ALTERNATE TIMELINE
Xander: KARU IS OUR ENEMY
Ryoma: I had wished for this day for so long and now my DREAMS HAVE BEEN CRUSHED
Karu: will you two assholes SHUT UP FOR TWO SECONDS and let me explain?!
Azura: Karu, they're boys. Boys will be boys. They can't be reasoned with. Let's go before they hurt themselves and possibly others.

[And then we fuck off!]

Azura: look you're going to have to pick a side eventually
Karu: No one asked you.
Azura: Karu, it's either Hoshido or Nohr.
Karu: Well then why the fuck is there a third game, huh?! Obviously Nohr and Hoshido aren't the only choices! Don't be so closed-minded!
honestly Xander is making it sound like I deserted OZ for the Gundams or something get over yourself, Xander I AM DOING THIS SO I DON'T HAVE TO CHOOSE but honestly it was easier just picking a side tbh
Current Music: Red Velvet - Dumb Dumb Areia Kpop Remix #200